On Wednesday, Theresa May fairly and democratically became PM… The competition was stiff, the votes have been counted and verified and… congrats on that victory.
Now she is in power, of course she has a new cabinet, in what many are calling one of the most dramatic reshuffles in history. IT'S PRETTY BIG. But who's who in the new cabinet, and how do you rate them? If we were in the Big Brother house, who would be evicted first? Let's take a look at some of the new cabinet big shots.
Introducing…
Theresa May: PM

Having voted against equalising the homosexual age of consent to 16 in 1998, against gay adoption rights in 2002 and having generally voted against laws to promote equality and human rights, May signalled she was the perfect candidate for Minister for Women and Equalities, a post she held from 2010-2012.
In 2010 May scrapped Labour's 'go orders' scheme to protect women from domestic violence by banning abusers from the victim's home. Just two days later, she closed 'ContactPoint', a database of information on all under-18s in England, created in response to the abuse and death of 8-year-old Victoria Climbié.
Speaking of the Big Brother house, May was quite happy to extend Big Brother vibes by drafting the Snooper's Charter, making mobile and internet service providers record everyone's usage (including messages, emails, voice calls) for up to a year.
If you are a non-EU migrant, you can only bring the fam (well, a family member) down to live with you if you are earning over £18,600 per year… much more if you want a visa for your kid, thanks to May. The All-Parliamentary Group enquiry into the effects of this found that, surprise surprise, this meant lots of children were separated from their parents.
May rejected the EU's proposal of compulsory refugee quotas: it is important to help people living in refugee camps and war-zones but 'not the ones who are strong and rich enough to come to Europe'. As we know, all refugees who have made it to Europe must be strong and rich and just over here for the lols. It's not like they are fleeing for their lives or anything.
Another immigration success is when May deported mentally ill Nigerian Isa Muazu, despite being close to death. Further, she was found in contempt of court, accused of 'totally unacceptable and regrettable behaviour' by Judge Barry Cotter for ignoring a legal agreement to free an Algerian from a detention centre. Had May not eventually agreed, she could have ended up paying fines or even in prison… ahhh, if only… PM in Prison, that would make the headlines…
Philip Hammond: Chancellor of the Exchequer
There's been lots of speculation about the recent suspiciously parallel vacancies on Top Gear and in the government but no, it's not that vaguely cute Jeremy Clarkson sidekick your mum fancies off the telly; it's T May's new top man.
Perhaps most famous for saying same-sex marriage is 'too controversial' and allegedly likening it to socially unacceptable relationships like incest. Because that's not at all controversial…
Given the Tory track record, it's surprising that with comments like these, Hammond wasn't immediately made Equalities Minister. He has openly criticised Cameron's approach to the 2013 Marriage (Same Sex Couples) Act, saying he was 'shocked' at how quickly it was pushed through and that it is 'damaging' to the Conservative Party. Of course, that's what has been damaging the party, Phil…
Boris Johnson: Foreign Secretary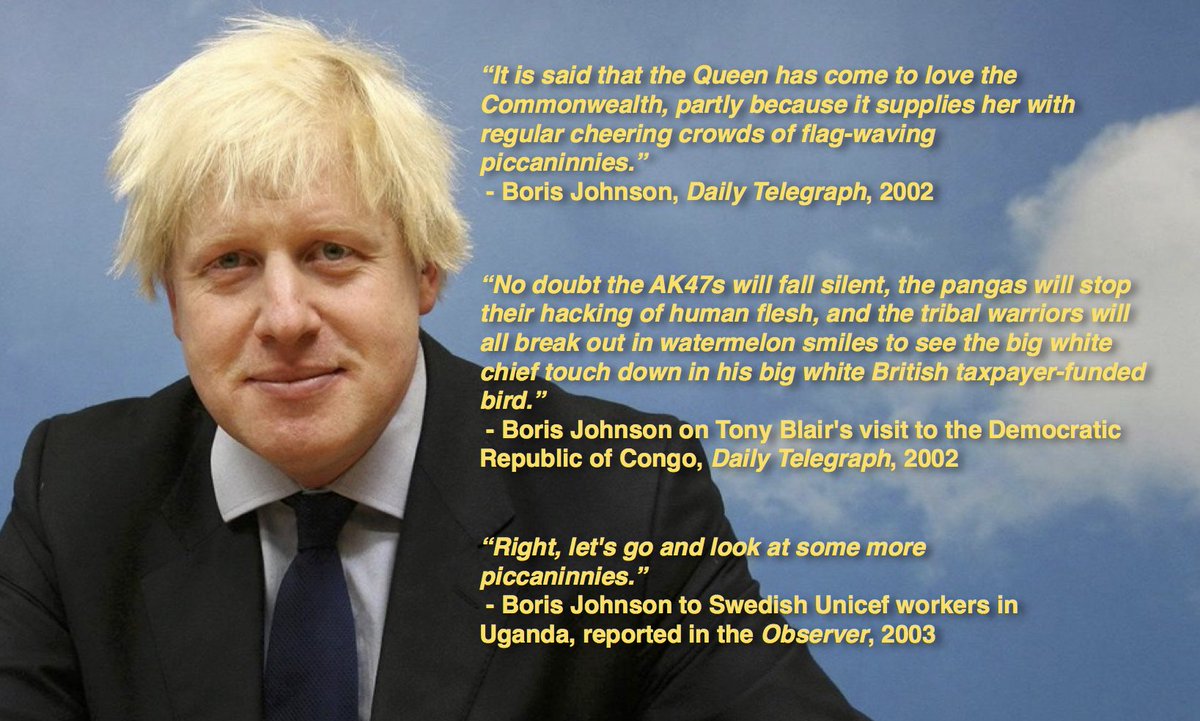 You're still waiting for May to April Fools you on this one but no; it is actually true. Famously culturally sensitive diplomat Boris Johnson has actually been made Foreign Secretary.
As Labour London Assembly member Tom Copley put it: 'it was embarrassing enough having Boris Johnson representing London, let alone the whole country'. Just goes to show that dodging responsibility for the enormous lies of your Brexit campaign lands you with… well, a pretty good job.
Senior European politicians have reacted to Johnson's appointment with disgust. I mean, you can see why some may be shocked, given his silver-tongued track record:
Johnson claimed Obama had an 'ancestral dislike' for Britain because of his 'half-Kenyan ancestry'. But of course, Boris…
He reckons the 'best fate for Africa' would be for 'the old colonial powers' to take over again.
He said 'The Queen has come to love the Commonwealth, partly because it supplies her with regular cheering crowds of flag-waving piccaninnies'. Hopefully you have never heard this word either. I had to look it up: it 'refers to a racist and derogatory caricature of dark-skinned children of African descent.' Nice one, Boris.
Oh, but that's not it. He had to apologise to Papa New Guinea for claiming the country was prone to 'cannibalism and chief-killing', compared the EU to Hitler, dismissed Saint Patrick's Day celebrations as 'lefty crap', had a Palestinian youth group cancel their meeting with him due to 'inaccurate, misinformed and disrespectful remarks' and won a competition for writing the most offensive poem about Turkish President Erdogan, involving masturbation and sex with a goat. Of course, all this behaviour qualifies him perfectly to be Tory Foreign Minister.
But in case you doubted Boris, it's okay, because he has reassured the world: 'I'm absolutely 100 per cent anti-racist, I despise and loathe racism.'
Amber Rudd: Home Secretary

In her previous role as energy secretary, Rudd was accused of misleading the public. Despite claiming publicly the government was on course to meet its international renewable energy targets, a leaked letter revealed this was not the case at all. In fact, the UK was predicted to fail to meet its target of getting 15% of its energy from renewables by 2020; the government were actually cutting subsidies for wind and solar energy, and therefore at risk of being fined and undergoing a judicial review.
In April 2013, Rudd unsurprisingly upset her constituents in Hastings by referring to "people who are on benefits, who prefer to be on benefits by the seaside…moving down here to have easier access to friends and drugs and drink". Thank goodness we have a home secretary who is so understanding of the issues people on benefits face.
Michael Fallon: Defence Secretary
So Fallon was responsible for some of that anti-Muslim propaganda the Tories tried to use against Sadiq Khan during the run-up to the mayoral election. He was forced to apologise for saying Khan associated with imam Suliman Gani, who he claimed was an IS supporter. Of course, Gani had nothing to do with IS, and Fallon agreed to pay compensation and legal costs, estimated to be several thousands.
It seems Fallon loves a spiteful pre-election stir; in the run-up to the 2015 general election, he said Ed Miliband had stabbed his brother in the back to become Labour leader, and would also stab Britain in the back to become PM, embarrassing some Tory supporters.
Fallon voted against gay marriage.
He became notorious in the expenses scandal, claiming for repayments for the entire mortgage on his flat rather than just the interest, which he was allowed to claim for. This meant between 2002 and 2004, Fallon claimed £1,255 per month, rather than £700-800 and, when finally caught out, asked: 'Why has no one brought this to my attention before?'
He was banned from driving for 18 months after a drink driving offence.
In February 2016, on the same day the International Development Select Committee said the UK should end all arms exports to Saudi Arabia due to human rights violations including air strikes against civilians in Yemen, Fallon attended a £450-a-head dinner for an arms-industry trade-body.
David Davis: Secretary of State for Exiting the EU
Another lovely anti-gay cabinet member, DD voted against gay adoption, against promoting homosexual relationships in schools and against equalising the age of consent to 16.
However, he voted for the death penalty.
Liam Fox: Secretary of State for International Trade
Sadly, this is not Liam Fox the Scottish footballer we are dealing with here. But wow, there is a whole load of shit to be dug up on this one.
He had the largest over-claim on expenses in the Tory shadow cabinet. He also brought his mate (or more than mate, many speculate) Adam Werrity with him on many trips, and to important meetings, pretending he was his 'advisor'. He even made him a fake business card and everything. Oh, and he used public money to pay Werrity, out of his massive expenses claims.
If this relationship was more than friendship, Fox is certainly overcompensating, as he appears staunchly anti-gay rights, having voted against same sex marriage and been given a rating of 21% by Stonewall, regarding how he stands on important issues to the LGBT community.
Fox called for a 'huge restriction, if not abolition' on the UK's pro-abortion laws.
He thinks ring-fenced funding for the NHS should end and foreign aid should be reduced: clearly, there are more important things to spend the money on…
He has voted for military intervention at pretty much every opportunity, including the invasion of Iraq in 2003. In 2014, he argued the UK should bomb Islamist extremists in Iraq and he voted for military action in Syria.
Justine Greening: Education and Equalities Secretary
On the surface, it's great – the first education sec to have gone to a comprehensive school, and she has just come out as LGBT, making her the first female openly gay or bisexual cabinet minister in the UK. Hopefully she'll knock some sense into all those anti-gay ministers…
However generally, Greening has voted against laws to promote equality and human rights. In April 2013, she voted to get rid of the part of the Human Rights act supporting protection against prejudice and discrimination. She also voted to get rid of the human rights act itself, and specifically against making it unlawful for any provider of regulated social care to act in a manner incompatible with the European Convention on Human Rights.
Linked to this, she also voted AGAINST making it illegal to discriminate on the basis of caste.
Allegedly, she was so busy chatting during a critical parliamentary vote about military action in Syria that she forgot to actually vote…
Minus this slip-up, she has consistently voted for use of UK military forces in combat operations overseas. Generally, she has voted against Labour's anti-terrorism laws, and for providing less legal aid to countries in need.
Education wise, she has consistently voted for academies, for ending financial support for 16-19 year olds in training and further education and for raising tuition fees to £9,000 per year.
So here you have eight of the key members of the new cabinet. But how do you rate them?